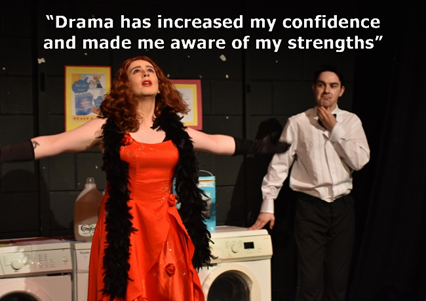 This Saturday, 27th March is World Theatre Day 2021. Here at Bazooka Arts, we have several theatre making programmes, including Theatre Tonic, The Allstars and Acting Up.
Over the past twenty years of running participatory theatre and dramatherapy programmes, we have seen first-hand the positive impact that taking part in drama has for individuals' health and wellbeing.  (To read more about the role drama can play in therapy see our dramatherapy blog).
In 2020, the Coronavirus pandemic threw a spanner in the works, as our face to face groups had to close and our live performance plans went on hold but in true theatre style the show did go on…in the only way it could, by moving our drama activities online.  Since April 2020 we  have run live sessions with our groups on Zoom and have experimented with different ways of working.
Theatre Tonic
East Kilbride based Theatre Tonic usually devise and perform an original play each year for the Scottish Mental Health Arts Festival, the plays have often been inspired by the chosen theme of the festival.  The groups last live play took place in May 2019 in East Kilbride Arts Centre Theatre, it  was a play all about a hospital called St Bell's, you can watch it here.
In lockdown the group began to meet online with weekly Zoom sessions, however not all members of the group have been able to connect to the sessions.  Once lockdown eased in Summer 2020, we did some socially distanced work and created a video to show the continued impact of Theatre Tonic for our participants. This short video gives an overview of the benefits of Theatre Tonic, and challenges faced by participants as a result of Coronavirus.
Working on Zoom created an opportunity spend more time reading through published plays.  In October, inspired by the spooky onset of Halloween the group worked on Rona Munro's Frankenstein and a melodrama about vampires.  More recently, Theatre Tonic have been working on developing some creative writing including prose and poetry to use for scenes in future performances about the journey from lockdown back to normality. 
The Allstars
Our Allstars programme is a weekly therapeutic drama group for adults with Additional Support Needs, the group has run in Coatbridge for the last 14 years.  The last live show performed by the Allstars was in November 2019, it was called Dr Who Knows Where.  The show followed Dr Who as he travelled around the world in the Tardis, visiting a variety of locations where he encountered a variety of  dramatic events, adventure and lots of singing and dancing.
The group have  continued to meet online throughout the pandemic. Sessions have run online via a variety of platforms to maximise access for people no matter what digital tools they have available or feel comfortable using, with some members joining on Messenger and others on Zoom.  Group leader Jenni has also been out on 'prop drops' at people's doors to ensure they have had appropriate equipment and props for taking part in the activities.
As we emerged from lockdown in summer 2020, the Allstars worked with Bazooka Arts to create a 'Doorstep Film' showcasing their work produced throughout the period of lockdown.
The Allstars continue to enjoy a range of activities, with a highlight of each week being the free movement session on a Wednesday morning.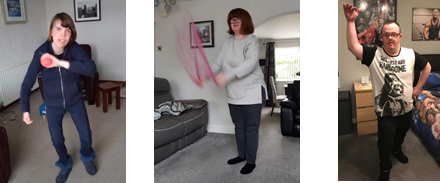 Acting Up
Acting Up is our after-school drama programme for primary school aged children in East Renfrewshire which began in 2016.  Each year the children work on creating an end of year production or film.   Our inclusive theatre making process involves children in all aspects of production, from storyboarding and scriptwriting, costume and set design to performance.
The group's last live show was in June 2019 , it was called The Circus of Dreams. 
Acting Up continued online via Zoom through the first lockdown until the Summer holidays. Weekly workshops explored a variety of themes taking the children all over the world, to outer space and far off magical lands, all without leaving their living rooms.
The Primary 7 girls group continued to meet weekly online to practice their performance for graduation, planning how they might be able to film this if they were unable to be together to do so. With the easing of restrictions in the Summer months, the group filmed their performance of 'the Witches of Macbeth' in local woodland.
Acting Up's year usually starts after October week, but we have delayed this as the children have been spending so much time on screen with online learning.  We hope to start back soon but are waiting to be able to do this safely in person.   
Online workshops have enabled groups to keep in touch and continue taking  part in  drama activities. However, all of our participants are looking forward to the time when they are able to meet in person and once again begin staging performances.
If you'd like to find out more about Bazooka, or would like more information on how to take part in our activities, we'd love to hear from you.