The theme of Scottish Learning Disability Week is relationships, and we can't think of a better project which celebrates the importance of relationships and equality in relationships more than the All Stars Drama Group!
We have been lucky enough to work with the All Stars for 15 years, collaborating to devise theatre productions and film which have been presented annually as part of Lanarkshire's programme for the Scottish Mental Health Arts and Festival.
The All Stars drama group have met on a Thursday morning in Coatbridge for the last 15 years,  until Covid restrictions required us to move to working online with occasional out door meet ups . It has always been a place of fun, friendship and at times romance.  Working as a theatre group builds very strong bonds as rehearsing together weekly on a show creates lots of shared moments, memories and laughter.
Show time requires all hands-on deck to make a high quality event for friends, family and the wider community. At the All Stars it is also a time that draws friends and family in to help with painting scenery, sewing costumes and catering- it creates a buzz that people are drawn to.
In the early days many of the plays were written by a very talented member called Rae Caven, who used her plays as an opportunity to put herself and her boyfriend Martin Gallager as leading lady and man at the centre of a highly dramatic love stories. Both Martin and Rae have now passed away but the legacy of their shows and working with them for many years has left us with amazing memories.
We were lucky in the earlier days of the SMHAF in Lanarkshire to perform with lots of other acts at Motherwell Civic at a big showcase event called the Well Factor. The All Stars performances were a  star billing at the events delighting audiences year on year.  One of the best comments left by an audience member was ''All Stars you have done it again….made me laugh, cry and enjoy myself.  You do what medicine should do – make you feel better.  Bottle it and sell it!''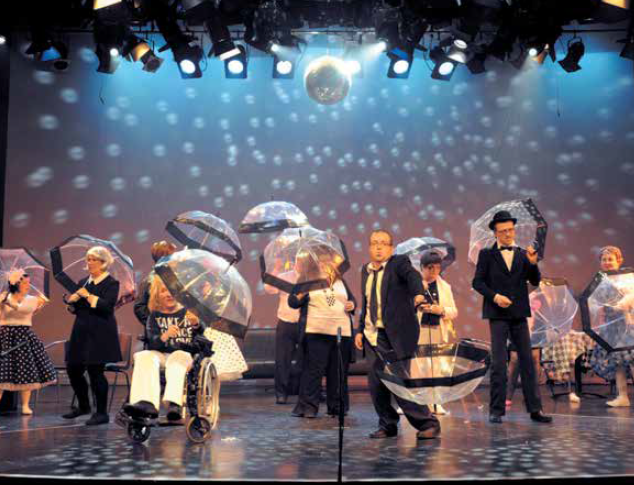 One year Brendan O Carroll and his wife  Jennifer Gibney popped into the Motherwell Civic  to catch a glimpse of the cast  in rehearsals before they had to rush off to perform their own  Mrs Brown show at the Pavilion. 
In the first year of the festival the group  performed their romantic comedy  Dancing with Wolves – which  featured  Rae and Martin as lead characters Scarlett Hood and Wolfie, who were destined to be together after a trip to Grandma's house and a lot of  dancing in the wood. The rest of the cast were brilliant, three of our longest serving members were in that original production, namely Jason Gallagher as Scarlett's  Dad, a former woodcutter who had recently lost his job, Lesley Harkness as his wife and  Scarlett's long-suffering Mum  and Martin Devine as a member of the wolf gang. These three friends will return next week to our first face to face in door group since Covid restrictions began. 
After the original production for SMHAF the All Stars began to create an annual show, many were adapted stories in a pantomime style, one called Hollywood Dreams was set in a retirement home for old film stars, which gave everyone an opportunity to play a famous character or star they admired. One year we created a film, again inspired by Rae's desire to spice things up and appear, with Martin in a gangster movie.  The film was called 'The Gangster and The Show Girl' and it premiered at The Vue Cinema in Hamilton during SMHAF in 2010
There are currently  18 All Stars waiting to return to face to face working next week.  We will begin by working in two halves, to get used to working with Covid safety measures. Many newer members have not had the opportunity to perform in the big venues of our early days, we have carried on creating shows but with tight budgets these have been performed in the local community halls. The last live performance for an audience  was  Dr Who Know's Where.
Before covid restrictions a few of the older members had begun to talk about how amazing it felt to be on those professional stages. All Stars chairperson Scott Raeside (who once played James Bond on Motherwell Civic stage) and other committee members had begun to work on fundraising ideas to try and get back to a theatre venue, to give the newer, younger All Stars the exciting experience of performing in a professional theatre venue.
In the meantime, everyone is just over the moon to be returning to meeting in-person to rehearse and work together from Thursday 20th May.