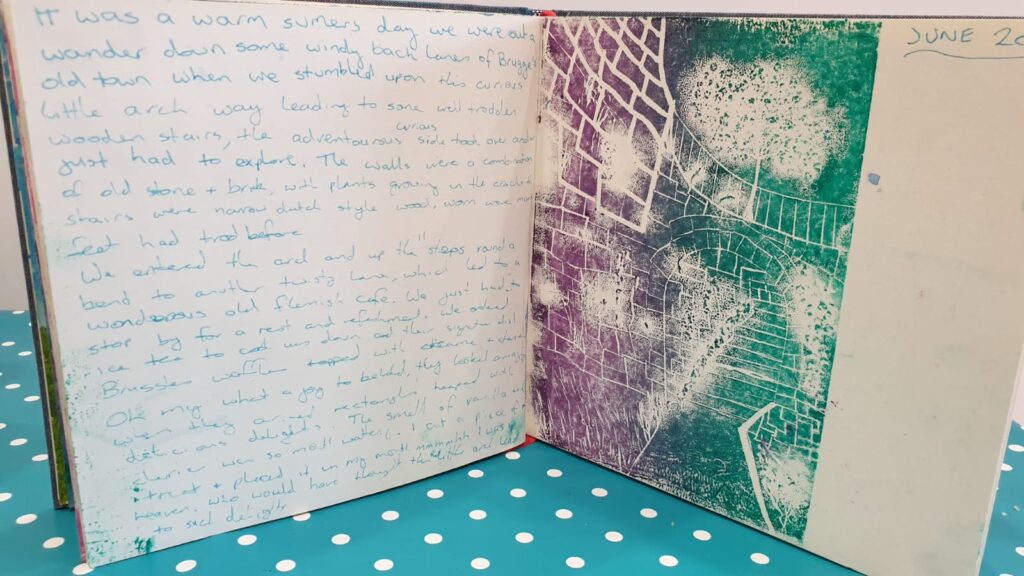 Wednesday June 23rd was National Writing Day, a perfect opportunity for us to do some in-person creative writing workshops at our bumper Summerlee week. It's also a chance to reflect on the past year over which we have increased delivery of creative writing workshops as they work well online. People only need a pen and paper to participate so they have provided a really accessible therapeutic tool at a time when people have needed it the most. Our Zoom Creative Writing sessions for the Scottish Mental Health Arts Festival opened the reach of our workshops far and wide connecting our regular Lanarkshire based participants to people in Kenya, the USA and the Shetland Isles.
The short story below was written by Joyce Davies, a participant at a Creative Writing Workshop run by Bazooka Arts as part of the Scottish Mental Health Arts Festival, 19th May 2021.  A series of images were shown to participants to inspire Short Story Writing.  The images chosen by Joyce were a candle, a blue and pink heart shaped box and a walled garden.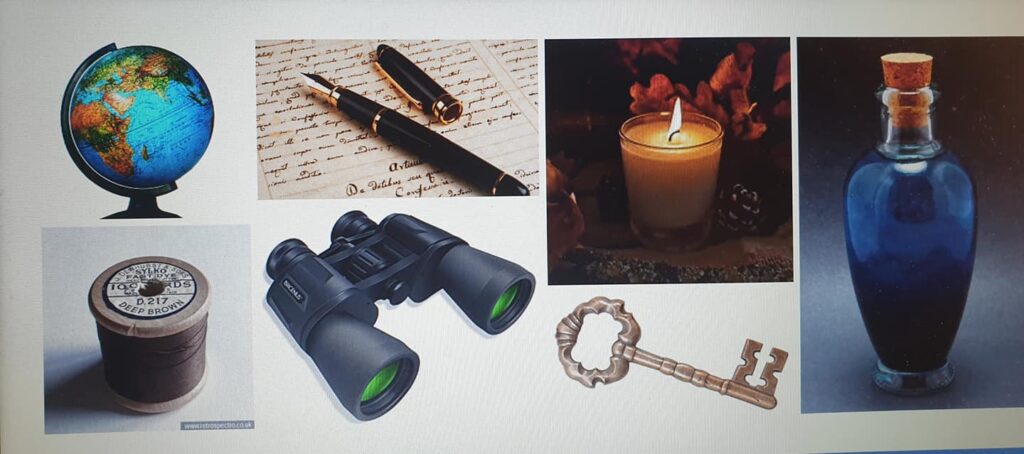 A Short Story in three parts – The Candle, Granny, and the Priest.
The Candle. The year is 1928.
Marie lit the candle and placed it gently in the centre of the dining table in her small and cosy sitting room. She surrounded the candle with pine cones, and some leaves her daughter Flora had picked up whilst the two of them had walked together through the woods that very afternoon. It looked simple but beautiful she thought.
The candle had a gorgeous rose scent and it quickly spread across the room which Marie enjoyed immediately. Candles were precious to her. Light warming dark places she thought to herself. Memories of her childhood in Glasgow. Gifts given to her over the years by her family and friends. Candles were always a much welcomed gift and this particular one was very precious. She had taken it out of its box and decided to have it on the table this evening. Her and her daughter Flora were eating together this evening as tomorrow her much loved only daughter was heading off back to Nursing College after spending some of the summer at home with her mum.
Flora was busy cooking in the kitchen, so Marie sat slowly down at her table her eyes fixed on the candle flames as they moved gently around the room. Marie smiled to herself at the thought that after so many years of looking after Flora here she found herself being looked after by her. The thought gave her great comfort. Gosh, she was going to miss Flora, but she felt so deeply proud of all she had achieved. Bringing up Flora on her own had been a struggle at times but she had grown to be a fine young woman. Her husband William had died of TB when Flora was just two years old.
Granny. The year is 1952.
Twelve year old Liam picked up the shinny blue and pink heart shaped box. He knew it well for his Granny Marie had never let it be far from whenever she was in her peerie flat. It would sit on the smallest of the nest tables next to granny's fireside chair. Granny, the thought of life without her, was unimaginable. She had looked after him throughout his life for both his parents worked in the centre of the city. Granny Marie had always been there when he finished school, always fun, always making sure he did his homework, ate all his meals, and looked smart.
But yesterday Liam had attended Granny's funeral Mass at the Chapel that she went to several times a week. Granny had lived in the same flat ever since she married. Liam lived nearby. Liam had never attended a funeral. His parents said he didn't need to go but he told them both that he had to go, he simply had to. He had sat in between his parents. Whenever they had to stand up, it felt like he was being held up by both of them.
Liam tentatively opened the lid of Granny's heart shaped box. Inside he saw her familiar bright red Rosary beads, the ones she used daily. The ones she had taught him to pray the Rosary with. Liam lit a small candle for granny for she had always loved candles. Liam had often bought her one for her birthday and Christmas. He also would bring her one as a gift when he went away with his mum and dad on holiday. His mum always bought granny candles too. Mum said that when she was growing up the two of them would always have a candle on the table at dinner time whenever it was a special occasion. Mum had loved this so much that she had always done this too when she grew up and had a home of her own.
Liam watched the flame of the candle he now lit for her granny, holding the Rosary beads in his hands he began to pray the Rosary, Hail Mary Full of Grace…
Liam had been surprised that Granny had chosen him to be left with such a precious gift as he knew these beads had meant the world to granny. Then a thought occurred to him, it was granny's way of telling him so did he.
The Priest. The year is 2021.
The Priest opened the iron gate into the walled garden. He had just finished his lunch and had a hour to spend alone. Since the work of the Parish had become too much for him, he had come to live in this Care Home run by the Church. He spent the majority of his time in the beautiful Chapel, the packed filled library or out here in the walled garden.
The Priest kept physically well and felt very fortunate. He had lived a happy life working in a number of Parishes. He often thought of his many Parishioners and would pray and light candles for them. Many would come and visit him, and he loved to hear tales of what was happening in the various places he had lived and worked during his Priesthood.
He sat in the beautiful garden, smelling the scent of the many roses and daydreaming. He was sometimes surprised when he was reminded of the fact that he was now in his eighties. Just where had his life gone!
As a young man when he entered the church his parents had been surprised. They hadn't discouraged him, but he had felt that they may have preferred a different path for him. He chuckled to himself as his hand reached inside his cassock pocket and felt the red rosary beads, the one's granny had given him in her will, the ones that throughout his priesthood had never been far from his reach. Granny would have liked that, he thought to himself as he felt the sun shinning on his face. He felt peaceful and relaxed. He was in a place where he wanted to be, surrounded by the beauty of the walled gardens enjoying the smells that surrounded him. The smell of Roses always reminded him of his granny. Marie had been a wonderful woman, he thought quietly to himself that she would love the fact he had become a Priest.
As he sat on his favourite bench his mind wandering to days of the past, he closed his eyes and drifted off into his usual afternoon nap.
Joyce Davies. Shetland Islands.
Joycedaviesart on Instagram.