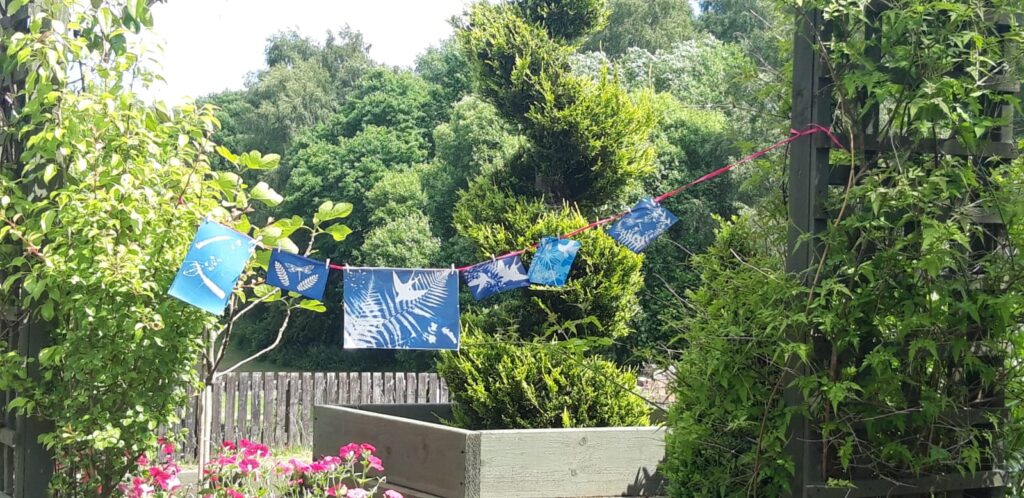 During our creative wellbeing week at Summerlee Museum, celebrating the end of our Create and Connect project we had great fun delivering Cyanotype workshops with Bazooka Arts participants and volunteers. Cyanotype is also known as sun printing, and fortunately we were blessed with a week of glorious sunshine and surrounded by an abundance of flora and fauna to help us create some wonderful Cyanotype prints.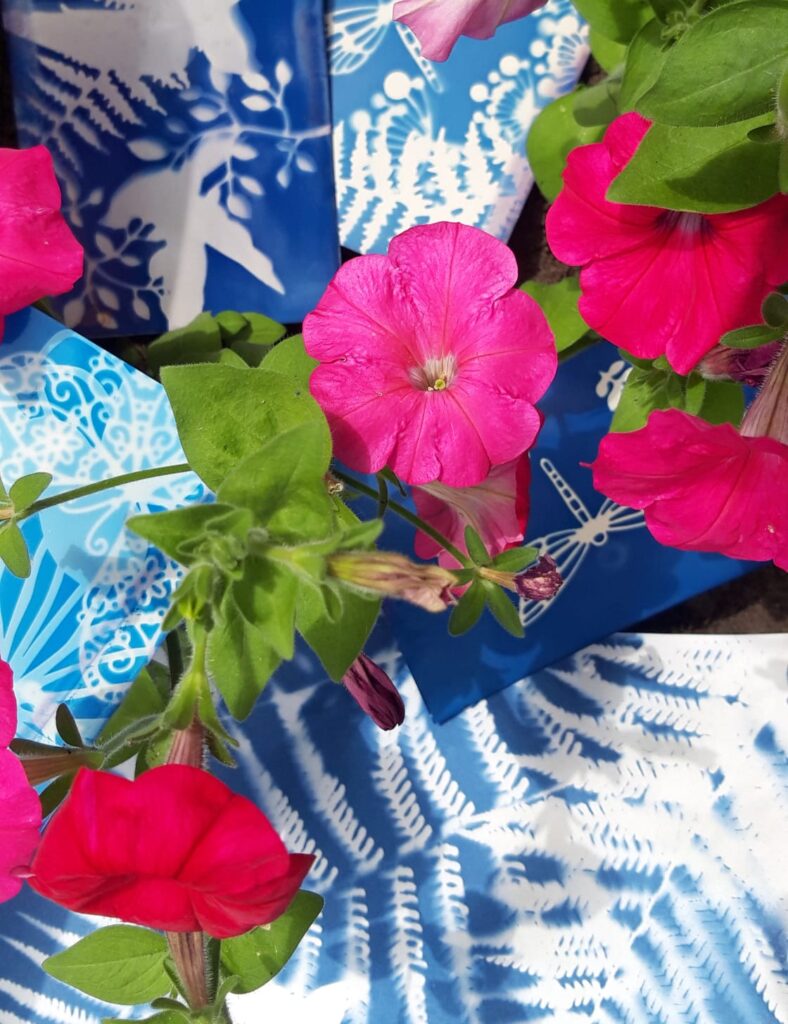 Cyanotype is a simple photographic printing process discovered by scientist and astronomer Sir John Herschel in 1842, originally developed as a method of reproducing notes and drawings which became widely used by architects to create 'blueprints' which is where the term originates.
The process uses the chemicals ferric ammonium citrate and potassium ferricyanide which react when exposed to UV light, transforming in colour from a greenish grey to a beautiful cyan blue which varies in depth depending on length of exposure, strength of light and the materials used.
We prepared our own papers for our workshop coating them with the chemical solutions and we also bought some pre-coated papers which can all be purchased from www.cyanotype.co.uk.
Using a variety of foraged foliage, flowers and feathers combined with materials we brought to the workshop including; stencils, lace and papercut shapes, participants carefully created compositions selecting and placing their chosen pieces onto the precoated paper before exposing it to sunlight.
Picture frames help hold things in place, as gusts of wind can easily blow fragile items away. We placed 2D objects face down inside frames directly onto the glass, then placed our precoated paper face down on top before tightly securing them together in the frame. This allowed us to work at table inside away from direct sunlight and then carry our completed compositions outside, before turning them over to expose them in the sun. 3D objects can easily be placed on top of the glass.
The sunlight was so strong that our prints exposed very quickly, transforming in colour from pale yellow to green and then to grey within minutes, it was really fascinating to watch.
Once fully exposed after 10 minutes or so, the artworks were taken inside,  out of their frames and washed under running water, this is when the beautiful cyan colour began to emerge.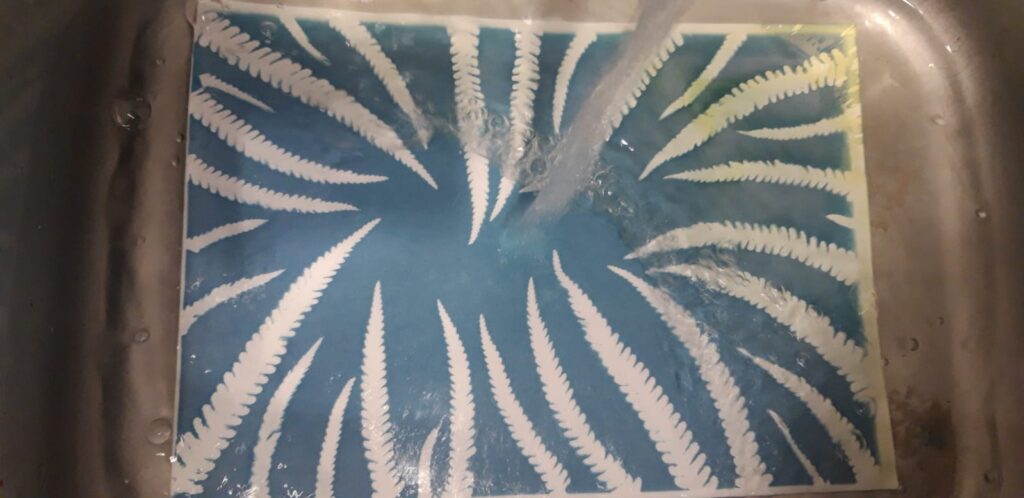 We pegged the prints out to dry on a washing line which looked beautiful fluttering against the scenic green backdrop of Summerlee. As they dried the prints became clearer and the blue became stronger.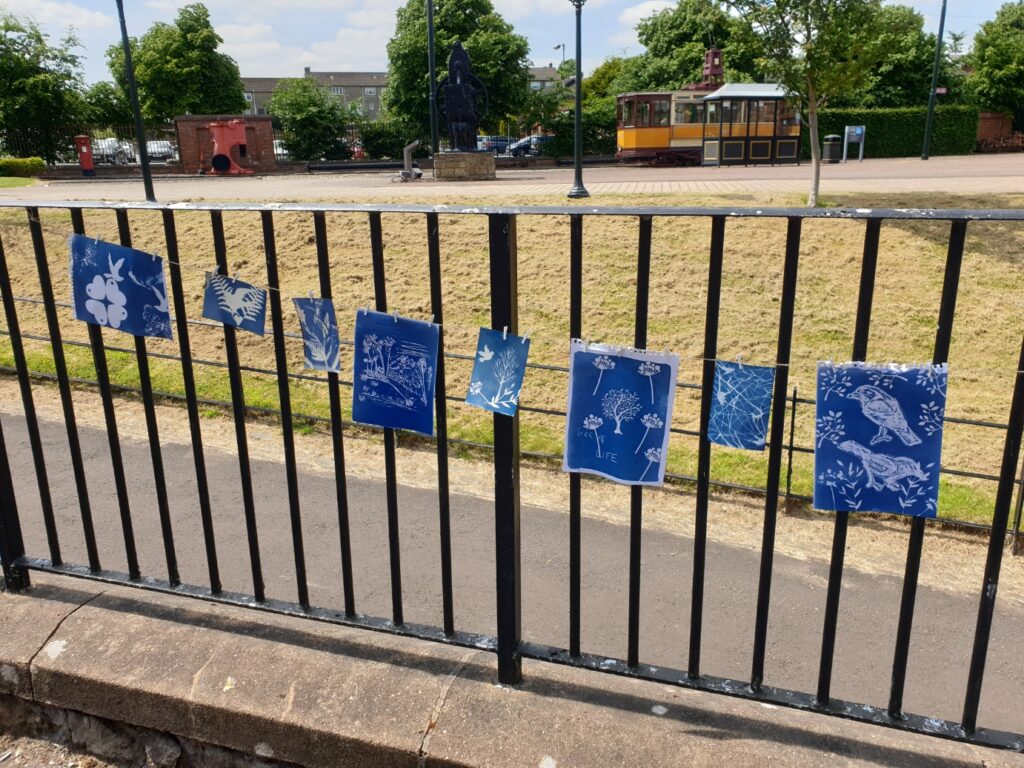 This was a wonderful workshop to deliver and our participants seemed to gain a huge amount of pleasure and satisfaction from taking part in the process from start to finish, especially in seeing their prints develop through exposure to natural sunlight. It is such an interesting and rewarding process which is quite simple yet can quickly achieve accomplished results.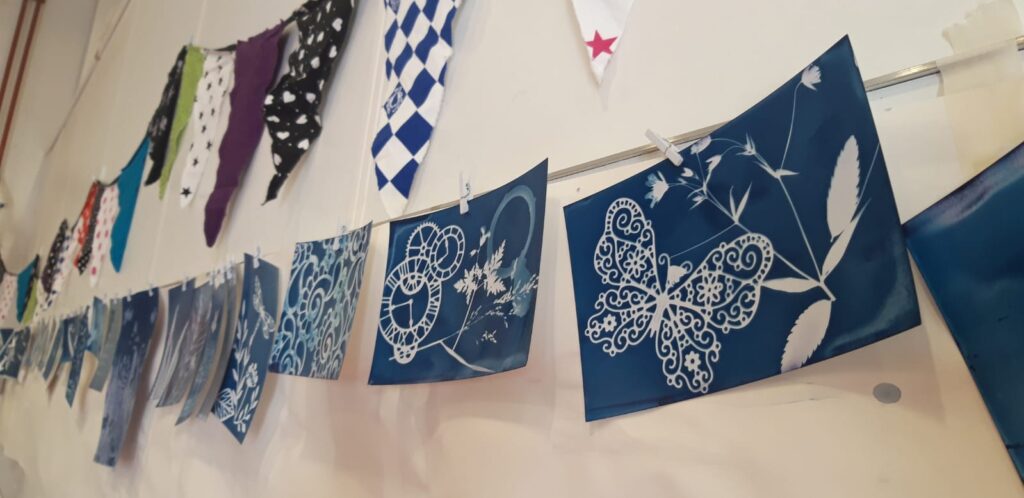 We look forward to delivering more cyanotype workshops and plan to develop it further by experimenting with the process and printing onto different surfaces and materials, the possibilities are endless!
If you would like us to deliver a cyanotype workshop for your community group, class or school please get in touch with us at create@bazookaarts.co.uk we would love to hear from you!