Join us at The Art Stop, Coatbridge in May and June as we celebrate recent art work created by two of our visual arts groups.
From Syria to Scotland  
Opens Wednesday 31st May 11am – 12.30pm
Continues  12-2pm Tues-Fri until  Tuesday 6th June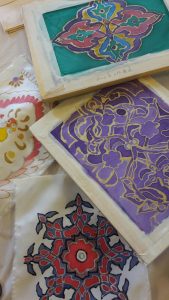 This exhibition displays artwork which has been created by Adult Learners from Coatbridge's Syrian Community as part of a therapeutic Arts programme.
Bazooka Arts have worked with the group over an eight week period, delivering a series of arts workshops which were inspired by the similarities in design between Scotland and Syria. It focused particularly on patterns found in textile designs and architectural details.
For some participants the project provided a valuable place of relaxation and escapism and for others it provided a place to share stories about their homeland and their experiences in moving to Scotland. 
The group mainly focussed on silk painting which is a very relaxing artform to work with, which provides very satisfying results. They demonstrated great skill and an enthusiasm for learning and were keen to incorporate English language skills into the classes at any opportunity!
Bazooka Arts will host this exhibition within the Art Stop in the Quadrant Shopping Centre, Coatbridge to enable the work to reach a wider audience.
The project was commissioned by North Lanarkshire Council Community Learning and Development.
What Makes My Heart Sing
Wednesday 7th June 11am – 12.30pm
Continues 12pm – 2pm Tues – Fri until 14th June
Our regular Wednesday group have been creating work inspired by every day sights, thoughts and feelings that make them happy.  Working with Visual Artist Bryony Murray they have been learning felting techniques to create some truly beautiful images.
This project has been funded by North Lanarkshire Council and The Roberston Trust
Our Wednesday group is part of our ongoing programme of therapautic arts activities that promote positive mental health and wellbeing.   We have an open and inclusive policy – people of all backgrounds, ages and abilities take part, but in particular, these projects have proved to be particularly beneficial for people in society who are marginalised, isolated or disadvantaged by living in poverty, affected by disability, caring for others, older age ill health and mental ill health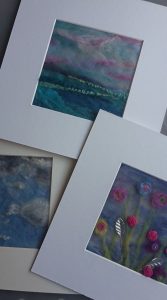 THE ART STOP, QUADRANT SHOPPING CENTRE, COATBRIDGE